Information and Links:
Welcome To My Homepage/Blog!
---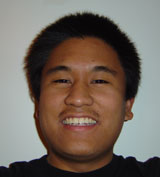 ---
Currently Listening To:
nothing
Currently Playing:
nothing
Currently Watching:
nothing

---
Info:
Name: Peter M.
AIM SN: carnitrobongen12
E-mail: carnitrobongen12@hotmail.com
Location: Glendale, CA
DOB: 4/26/1982
Small Bio: Born in Los Angeles,CA. Raised in Glendale, CA; attended Herbert Hoover High School. Studied bioengineering at the University of California, Berkeley and graduated in May 2004. Enjoys fishing, basketball, and playing Nintendo GameCube. Once an extremely shy person, is getting better about making new friends and meeting new people. A well-traveled individual who has been to 14 states, 18 national parks and 13 national monuments. Hopes to eventually visit the remaining 36 states. Currently in pursuit of employment in the biotechnology industry....


---
Favorite:
TV Show: The Simpsons
Movies: Forrest Gump, Better Luck Tomorrow, LoTR series
Anime Series: Neon Genesis Evangelion
Food Type: Japanese
Sport: Basketball
NBA Team: LA Lakers
NBA Players: Derek Fisher
Vince Carter
Colors: Cal blue and gold
---
Academic Schedules:
Fall 2001 Class Schedule
Spring 2002 Class Schedule
Summer 2002 Class Schedule
Fall 2002 Class Schedule
Spring 2003 Class Schedule
Summer 2003 Class Schedule
Fall 2003 Class Schedule
Spring 2004 Class Schedule

---
Various Links:
UC Berkeley (Official site)



California Golden Bears
BigC.mp3 (a Cal fight song)
Tau Beta Pi -The Engineering Honor Society
TBP California Alpha Chapter
Bearlink (Cal Student Links)
Yahoo!
CNN (good news source)
NBA.com
ESPN.com
Yahoo! Sports
Gamespot (video game website)
Google (best search engine.. even if made by stanfurd grads)

---
Other Pages on my site:
Transcript (my only way to show off)
Japanese Kana Chart (Learn kana, Japanese phonetic writing)
CN12's Trivia (Random Trivia!)
My Trip to Japan (Info about my trip to Japan in 2001)
My Trip to Hawaii (journal and photos from the 2004 trip)

---
Other homepages/blogs
:
(mostly good reads...)
Dracil
germ22
YokulX
blaurb
hAMBERgrrr
karenhehehehe
leonpoq
sekushi.net
---
Random Content
---
January 31, 2005 - still have not decided what to do with this space
-I still haven't decided what to fill this space with. In the meantime, just browse and enjoy the blog archive.
---
*Note: I wasn't writing a blog from the end of February 2003 until the end of May 2003