December 30, 2003 - fishing pics
-Irvine Lake, Orange County, CA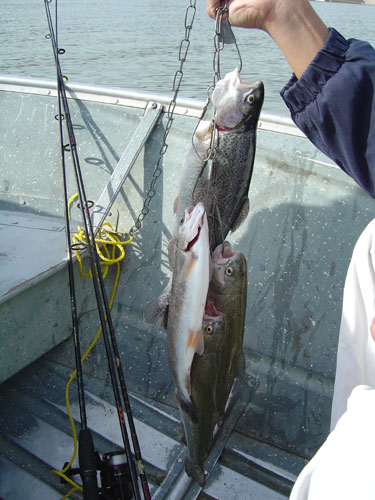 -4 Rainbow trout
-12:53 pm: fishing report: err slow day on the lake... only 5 fish for 7 hrs on the lake. didn't personally catch any of the above fish... dad caught 4 of them and Paul caught 1. Irvine Lake water kinda disgusting with lots of algae growing, although that's true of most artificial lakes. i really miss the natural lakers like the Mammoth lakes with their clear water and sometimes better fishing..


---
December 27, 2003 - xmas pics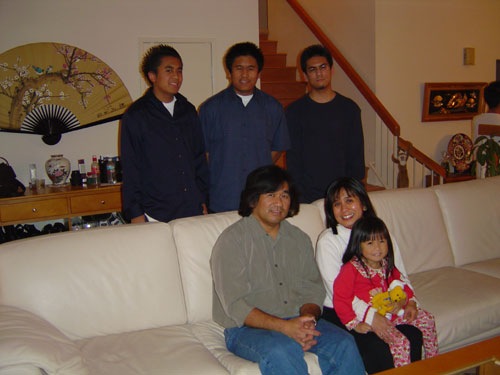 top left to right: Matthew, me, Paul; bottom: dad, mom, Catherine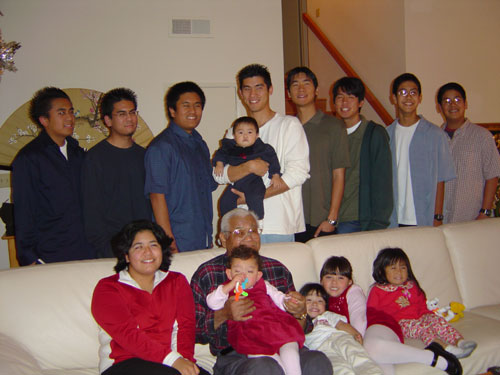 Masatani cousins top left to right: Matthew (15), Paul (18), me, Timothy (9 months), David (25), Danny (23), JJ (17), Gregory (14), Michael (12); bottom: Melissa (18), grandpa, Analise (3), Caitlyn (3), Karina (6), Catherine (4)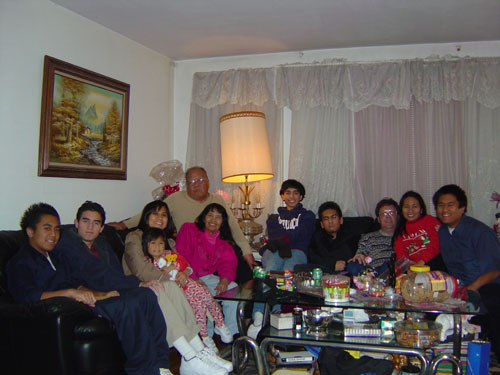 Cuarez Family left to right: Matthew, Thor (18), Catherine, mom, Tatay (grandpa), Nanay (grandma), Trevor (15), Paul, Uncle Jerry, Auntie Susan, me

-3:50 pm: xmas report, recovered ~250 dollars of the 300 the camera costed. i can probably eat the rest, but books will set me back another 300 >_< oh well. since xmas, home still nice and boring with not much to do. Abusing new camera and photoshop a lot, although was too lazy to touch up the above photos. for clarifcation Timothy and Caitlyn are actually second cousins, they're my eldest cousin David's kids.
-watched Insight Bowl last night... wow lovely defenses allowed 101 pts combined. Cal wins 52-49 on Fredrickson's FG with no time left. Team should be excellent next season.
---
December 24, 2003 - random images

-a model of the huge ass trout my dad caught october 2002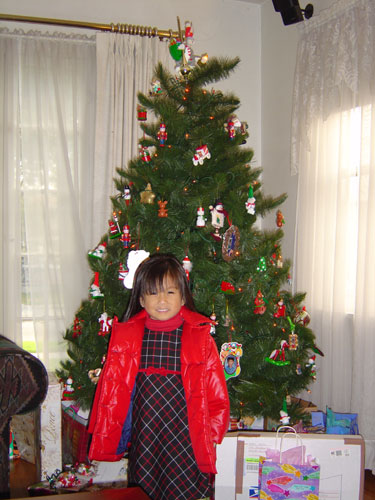 -sister in front of the artificial tree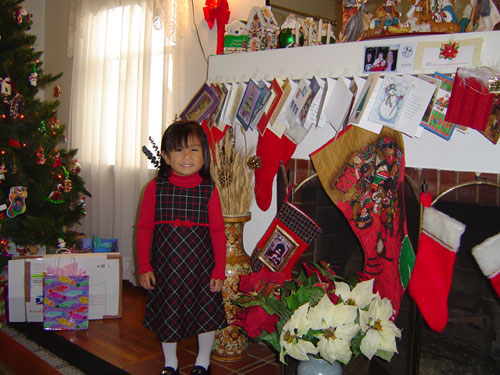 -the fire place
---
December 23, 2003 - boredom, new camera

-6:20 pm: yes!!!!!! glorius boredom!!! nothing to do is much much better than having craploads of dynamics and ce130 problems to do. so yeah i've been doing a lot of nothing so far during the break... pretty much watch tv all day, eat too much etc. i actually have some work i need to do, but i'm waiting for when my bros go back to school when the days will be truly boring.
-i got the one thing i wanted for christmas already, a Sony DSCP10 digital camera.... price a whopping $354.99 plus tax. it's my first indulgence since buying the gamecube a year ago, and it's going to set me back quite a bit. i've really wanted a digicam since coming to berkeley; there's been so many situations where i wish i had one. now everyone gets to see the annoying shutterbug side of me... mwhahahahah. also this site will become a whole lot more interesting now that i can post photos of crap instead of writing.....
---
December 19, 2003 - hard work pays off.... still haven't seen "it"

-12:23 pm: so i was checking grades this morning cuz i'm psychotic like that and grades are like my life so blah blah and low and behold something extremeley unexpected.... freakin A+ in 118. i was fuckin worried about getting *gasp* a B in that class, but what the hell. i almost think it's some kinda mistake... but looking back on what our 118 group went through for that class and its project, i think it was well deserved. if my group members didn't get that grade as well, it will be some great travesty cuz i think they put in a lot lot more work than me. aaaah damnit adding to the old cliche "hard work pays off" seriously i put it in far more work than the other three classes combined...
-and no damnit i haven't seen the third LotR movie yet.... damnit damnit... my mom wanted to see it as a family so i've had to wait until today
---
December 17, 2003 - one month later....

-4:28 pm: hahaha sorry to everyone who has checked up on this site expecting some kinda update only to see the silly DNA molecule. the past month has been so hectic that updating this thing was the absolute last thing on my mind. needless to say quite a lot has gone on in the past month; i'll try to summarize as best my failing memory serves me.
-Nov 20, TBP candidate meeting 4. the meeting is fairly successful and fun. fewer performances than i would have like to have but the three we had were pretty good. potluck experiment seemed to go well although there was somewhat of a shortage of food. for next semester, if the vps decide to keep the potluck going, they should have all group make entrees. should make it fairer for everyone as well as perhaps having more food for everyone. lots of ppl had a blast with the final photo scavenger hunt pictures, saw a huge ass human pyramid and even got doused in some water...
-Nov 21, Cal bball loses to Cal Poly. OK damnit this was like some bigass disappointment. how the fuck could the bball team lose to freakin Cal Poly... CAL POLY!!!!! ugh my only consolation would be the next day
-Nov 22, TBP little Big Game, actual Big Game. aaaah good old college rivalry games. First in the CA-A - CA-G tradition of the little big game, our chapter was barely triumphant over our stanfurd counterparts 5 scores to 4. After that, went to the actual big game with a bunch of TBP and other engineering friends and witnessed Cal's 28-16 victory. The first half was quite dreadful with Cal fumbling the kickoff and numerous other times to give stanfurd a stunning 10-0 halftime lead. The second half was much better, as Cal finally showed that it was indeed the better team with 28 straight points. stanfurd added a meaningless touchdown and failed conversion as time expired. after enjoyed Zachary's with Menzies and Jen over a very very interesting conversation
Nov 26, Cal bball beats BYU on last second Tamir putback. exciting game for being so close, yet i was still pissed off the bball team hasn't done as well as expected.
Nov 27-30, thanksgiving weekend - a nice first two days entirely eating way too much. Leon came with me sorta to spend thanksgiving down south. Went to his favorite Long Beach restaurant, the Crab Pot. Spent saturday and sunday doing damn bioe118 project... after flying back to oakland, taking 2 hrs to get back to berkeley from the airport (damn you airBART), went immediately to Kathy's place to work on the bioe presentation
Dec 2, tbp member potluck - pretty good food, especially the satay brought by Ryan. approved almost everyone except for the one headache case, who pissed me off so much i had the nerve and audacity to curse at him in email... in the end we decided that being lied to wasn't quite in line with our ideals. after the potluck went to Kathy's place again to work on what else but the damn presentation. i went even on wednesday, missing the Cal-UCI bball game for the sake of that damn project.
Dec 4, project presentation goes reasonably well, except for IT problems with the powerpoint. None of the right 1/5 of our slides was projected, so ppl didn't get to see our lovely slides in their full glory. I'm hoping that that doesn't count off too much in the presentation grades, although knowing prof healy it probably did... we did something much worse in our project however... more on that later
Dec 5, initiation and banquet - waaaaaaah the end of TBP semester, the culmination of all our hard work, the graduation of our "babies" into TBP-dom. it was so sad seeing them progress into official TBP membership, but at the same time you feel honored and proud to have led them through the process. The banquet was quite fun and tight, i even did some crazy ass dance in front of everyone leading them to mistakenly conclude that i was drunk (we were at a brewery afterall). the highlight of the night was the end of the slideshow... we left them all with a nice image of Arthur's ass on the top of half dome. what a way to conclude the TBP aspect of the semester. It was quite the semester full of stress, fun, ocean dunkings, Brian rodeos, "don't not f*** with me"s, multiple mile hikes, but most importantly 60+ wonderful candidates who made all the suffering worth it, and every good moment one hundred times better. if any of them happen to be reading this, thank you so much for a great semester!!
Dec 6, TBP elections - oooh congrats to me, i became the next TBP president, inheriting the wonderful organization from Brian. I look forward to leading the organization, and i hope to be able to steer into a direction where we get more member involvement and serve the community better. im already hard at work planning and plotting next semester, i hope it goes as well as last. The elections dragged on for 3.5 hrs... somehow i thought i might've been able to cut the time down, but i wasn't. i couldn't bring myself to shut anybody up when i probably should have. eeeeee. after elections went to where else but Kathy's place to do what else but the damn 118 project. i had most of my portion completed, but still ended up staying until like 3 am just talking about stuff (quite shocking stuff...)
Dec 7-8, eeeeeeeeeeeh fucking eh i was sick those two days. so sick i could barely get out of bed. fuckin limits my study time that i begin to worry about failing the damn classes.
Dec 9, still sick but had to go damn bio118 to listen to ppl's stupid presentations. after that, the paper was still not complete so had to go to kathy's to help finish. i was quite quite sick the whole time, but i couldn't let the group down. i pretty much sucked it up and dealt with it, consequences to come later. in the end our paper ended up at about 20 pages, 5 pages too long, but there wasn't anything we could see that could be cut. we left it all, in the small hope that healy wouldn't notice (and more importantly wouldn't take off points). i've yet to see what effect it had, as the grades for that class haven't come in yet, but we'll see....
Dec 10-13 nothing but studying, taking tests and eating... the most hectic finals schedule i've ever had.... 4 finals in 3 days, with 3 8am finals. the public health final was retarded as expected, 118 was an exact replica of practices. me104 went a lot better than i hoped for with the amount of studying i got in for it while ce130 was the hardest piece of shit ever!!!!!! damn that crap was definitely the hardest final i have ever taken... wasn't confident of a single answer. still i was happy to be done with all that crap...
Dec 14, officer mixer, my first official event as president went pretty well. was mostly meant as a social thing for the new officers, but it was nice to see some of the old officer actually come and pass on some information. i think i've a pretty enthusiatic officer corps for next semester with almost as much ambition as me (:p). so we'll see what great things we can do
Dec 15 to now, returned to glendale, ca, so called jewel city of the san fernando valley, population 200,000 and growing. pretty much haven't done much other than sleep and watch tv. i think i'll probably start seriously working on the TBP timelines and outlines tomorrow.... and as you can probably tell, i'm sick of writing already... i was going to some kinda of semester recap, but i think i'll leave that for now.
---
November 17, 2003 - i am DNA

-10:21 pm: i saw this on Jen's blog during my daily blog check.. couldn't help but do it.
You are DNA. You're a smart person, and you appear
incredibly complex to people who don't know
you. You're incomparably full of information,
and most of it is useless.
Which Biological Molecule Are You?
brought to you by
Quizilla


-
LOL it's like pretty true... i do have lots of useless information.
November 17, 2003 - pictures from bball game and the weekend

-9:47 pm: pics from the Cal-EA Sports Exhibition Game (courtesy of Leon). Cal won 86-49.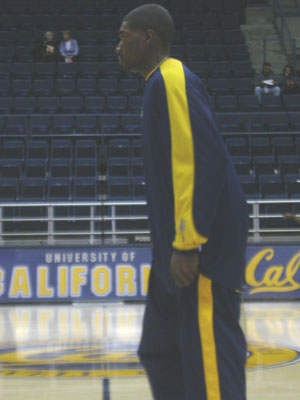 -Cal's top Freshman recruit, Leon Powe, warming up before the game.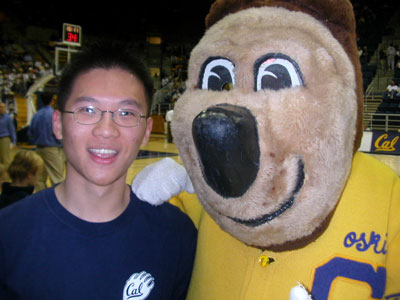 -My roommate Leon in a courtside picture with Cal's awesome mascot, Oski.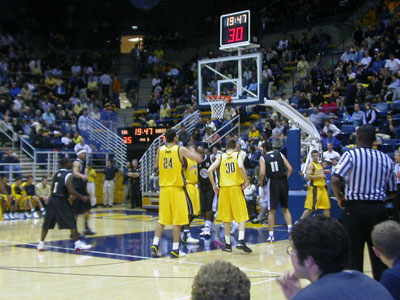 -Cal on offense at the beginning of the second half.
-Yeah the game was really fun!! my throat was pretty raunchy at the end from screamy so much. I had plenty of fun shouting at the other team, especially Ricky Anderson, the former Arizona player who always seemed to kill us during the Arizona games. The Bench took extra pleasure from him fouling out,; we gave him a nice loud exit complete with a cry of "YOU SUCK!!"
-saturday, i managed to survive 6 hours of E-futures. Peopls skills module wasn't as bad a i remember, maybe i have better people skillz now? after that i went with Ana, Dave and Leon to San Francisco to visit Adam, who was hospitalized with PCP pneumonia. Quite serious!! hope he gets out soon and healthy.
-after the hospital, Leon and I met up with Leon's best friend from high school, Jim, who was in SF attending the AICHe conference with 19 others from UT Austin. Got to eat free food at the AICHe student reception and ran into Cindy. Ah good fun the ChemEs are... plenty of booze and games they play... (maybe just the ones from Texas?)
-Sunday was the TBP pancake breakfast. We held it at the CZ co-op. My goodness, was the dirtiest place i've ever seen anyone live in. You enter the room to the combination smell of pot, beer and something else. Besides that problem, we had issues with the food purchasing oi oi... in all though, i felt it went pretty well.
-i'm in the middle of a shitload of work.... need to finish the me104 hwk today or i'm screwed. BioE118 project is becoming very scary as we've done essentially no work on it since talking with professor Healy. FACK!! hopefully tomorrow's group meeting is a bit more productive than it normally is...
---
November 13, 2003 - i hate mosquitos

-11:55 pm: for the past week i've been getting mosquito bites at night. I'm not sure why so many all of a sudden, but it's become really annoying. The worst was monday, when i woke up with a swollen right upper eyelid. I cannot believe i actually got bit there. I'm kinda thinking i have some weird skin disease or something but i can hear the damn things flying around the room at night and i'm only getting the itchy bumps on exposed areas (mostly hands and face). My right pinky is like freakin swollen right now and i can't quite bend it so well...
-shit there's only like 3 weeks of instruction left, then finals and one more semester of college left. I have no idea where the semester went; it definitely has seemed to have passed by a lot quicker than the others. Probably due to the high stress environment and constant homework that i have to do, but i want all that time back :(
-yes... friday tomorrow! Cal b-ball game to go to, then the weekend will be TBP filled with a sprinkling of homework to do. Next week will perhaps be crazy, but not as bad any midterm week. I'm quite looking forward to next thursday's final candidate meeting of the semester. We'll see just how well engineers can do at a potluck...
---
November 8, 2003 - not as bad as everyone said...

-12:50 pm: so everyone was telling me that the third Matrix movie was absolute crap, and seeing it would be a waste of the ever so worth it $9.50 cost of admission. Everyone saying it was so bad actually made me want to see it more; i became curious as to how bad it could possibly be. Perhaps it was because i had my expectations lowered so far, but i saw the movie last night and it wasn't really bad. Granted, it wasn't an excellent movie, but it sure wasn't absolute shit. I thought it was better than the 2nd one, which was really weird at times, especially with that massive dance scene. I will admit about this third movie and thing that people are bashing it for: you are left with many unanswered questions at the end; however none of them big enough to warrant a fourth movie. The storyline seems pretty much complete, 'cept for a few loose ends and unexplained things.
-movie was part of a really fun night last night. Daniel came over and played some videogames with Leon while i sat at comp recovering from MT. Called up a few more people, attempted to prod Dave out of bed (to no avail). and Daniel drove us (me, Leon, Ana, Adam) over to Bay Street 16. He dropped us off and we bought tickets while he picked up his friend Raymond. Movie got out around 10:15, then we went to Pinole and ate some Krispy Kreme and In-N-Out. Talk about double indulgence!! I've not had In-N-Out since March and i can't even remember when the last time i had Kripsy Kreme. After all that, returned to miserable old Berkeley and played card games until 1:30...
"Everything that has a beginning has an end."
---
November 7, 2003 - hell week ends...

-3:10 pm: OMG OMG... i can't believe the week of hell ended. two midterms and a candidate meeting made the week quite stressful. In a reversal of the last round of midterms, ME104 went a lot better than CE130.... hell i at least i finished the ME104 midterm, CE130 had too much work on it, so i was rushed the whole test. But blah, they're freakin over so whatever.
-Candidate meeting was pretty fun! more people showed up to the meeting than i was expecting, but we fortunately didn't run out of food or Lockheed Martin graph paper. It was quite odd eating inside of an Etcheverry classroom, especially one which you had lecture in.
-there isn't anything imminent this weekend, so i'll probably not do anything just like last weekend.. Big stress seems on the horizon though... the most worrisome is the mse/bioe118 project. We haven't like done anything with it other than define the topic. Granted we have 4 weeks left to do it, but i think it was supposed to be like an 8 weeks worth assignment.
-finally there is TBP stuff to worry about... i'm not sure why i worry about that stuff so much... they always end up pulling through somehow and being really fun, i guess it's just my obsession with having everything go absolutely perfect. I expect perfection perhaps a little too much, which probably leads me to these angry outbursts when things don't go so well.
---
November 4, 2003 - heart attack waiting to happen

-12:40 am: so much and anger and stress that i declare myself a freakin heart attack waiting to happen. Most of it is TBP related at the moment. I can say that i'm pretty much disappointed with most of the jobs of most of the officers thus far in the semester. With that hard fought election last May, i was expecting this group to do a stellar job, but unfortunately the job has been anything but. This is not directed at any particular officers cuz i have beef with pretty much all of them.
-The fiasco of CM3 came full circle on friday when the Dean's office emailed us informing that EAS no longer wanted the damn room. FUCK YOU ASSHOLES...... AFTER ALL THE BS WE WENT THROUGH RESCHEDULING. GOD DAMNIT. EEEEEEEEEEEE. I would have so preferred the meeting tomorrow, but no.... We went through a lot of trouble to reschedule the meeting... we didn't even get a simple thank you or even acknowledgement. ALL THIS FOR FUCKING NOTHING. Adding more pain, Soda scheduling emailed Brian today informing that the CS faculty usurped the Woz during CM4. BLEH. apparently they have priority over anyone, enough priority to simple take the room whenever. I think it kinda sucks that we had the room reserved for 5 months, YES FIVE FUCKIN MONTHS, and then they give us less than 3 weeks to scramble for alternative arrangements... FUCK some ppl don't even fucking make hotel reservations 5 months in advance. ALL THIS IS FUCKING BULLSHIT!!!!!!
-on a much lighter note, the weekend was quite fun doing nothing school related. Friday night went to Halloween party at Kathy and Galen's. Quite interesting not talking to many ppl and watching ppl drinking a bit too much EtOH....Had a great time hiking/getting lost at Point Reyes on saturday and slept for 14 hours sat night-sun morning.
-if i can survive this week then i'm almost home free for the semester..... (bioe118 project prevents total home freeness)
-Can i have calm? i did have calm for about 20 minutes on satuday. Reaching the end of our hike, we rested for lunch on a cliff about 50 feet above a beautiful estero (ocean inlet). The sky was totally clear, very cold wind blowing, and we faced south looking at the Farrallon Islands. The sea reflected the magnificent blue sky. The calm, shallow water of the estero was totally clear; clear enough to see straight to the bottom lurking with small sharks. The calm moment is one of those moments that are the answer to that age old question, what's the point of life. I think i've had two such moments this semester, both coming at the peek of long hikes. Half Dome and Point Reyes... The feeling is a strange, yet briliant one. Like you've just accomplished something great and that nothing else in the world matters anymore; you truly feel alive. I think i need to go on more 14+ mile hikes....
---