-surprisingly the ride costed only $15, so it was like $3 each (with tip)...We arrived at Diamond Head crater, former military base to hike to the summit. $1 each and 700 ft later we were at the summit of Lê'ahi (Hawaiian word for Diamond Head) with its awesome views of Waikiki and the southern shore of Oahu.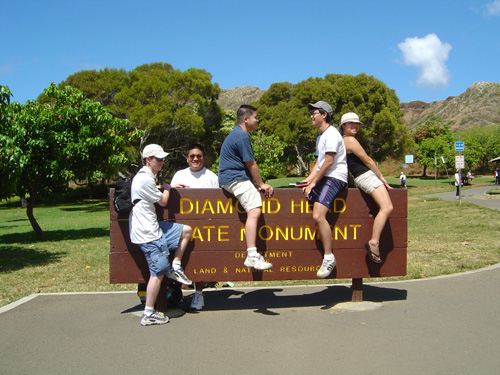 -who knows what we were doing to that sign....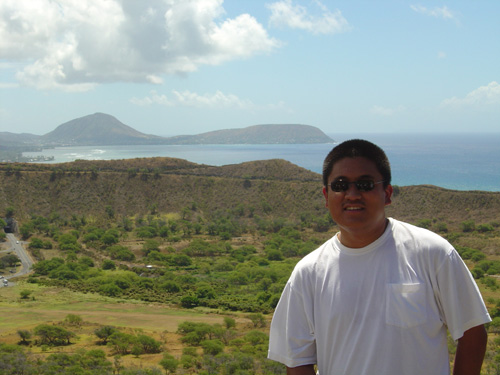 -View from midway to Diamond Head summit toward Hanauma Bay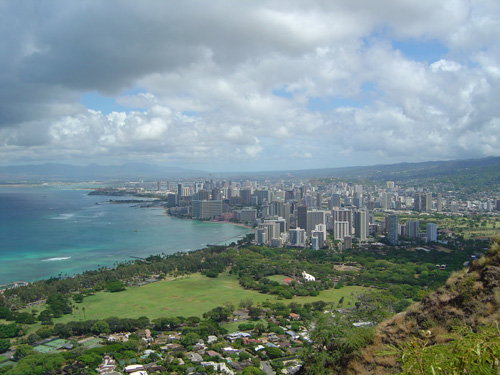 -View of Waikîkî from Diamond Head summit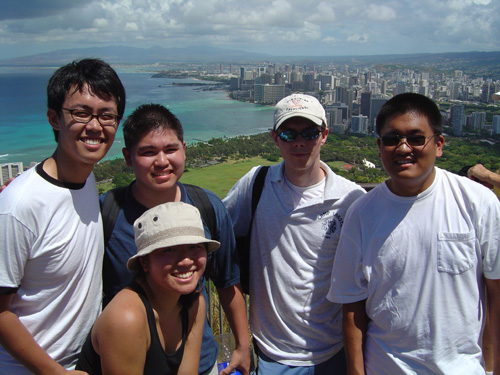 -Kathy was the gracious camera person for the group of 5 shots. Diamond Head was a short, easy hike of 0.8 mile each way that lead to that incredible view. My only complaints would be the huge number of people on the trail and all those stupid little bugs at the top! I seriously had like 30 on my back and i thought i heard someone say one flew into his mouth. Damn bugs! After we had enough of the bugs, we headed down the trail. We ran into Wen-Lin and Andrew who just started the hike up, and agreed to meet up with them later on Waikiki. We got back to the ticket booth along with a couple of honeymooning Japanese people and we all took a taxi back to Waikiki. $2 each this time and dropped off at some random point along Kalakaua Ave. Lunch time! I had ABC store food, and the others had Wolfgang Puck and Coldstones. Then we finally hit up one of the many crowded beaches in Waikiki for about 4 hours of swimming and sunbathing.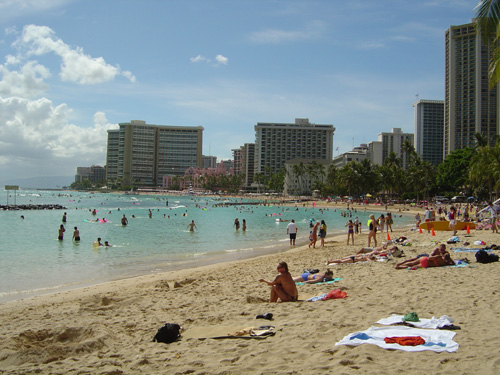 -the beach where we played!
-after the beach, we headed back to the hotel by walking along Kalakaua (kah-lah-kau' ah, if you're having difficulty). After showering up, we headed out again in search of Japanese food, this time walking along Kuhio Ave. No stinking luck for the longest time. First one we see was way too pricey, and we finally end up at a somewhat pricey sushi restaurant. The sushi was pretty good, but i did have better 3 years ago in Japan. When we were just about finished, Wen-Lin and Andrew finally caught up to us. Brian and I left the restaurant and went to random stores to buy random things (food). I bought water, peach Yogloo and nutter butter... Got back to the hotel, and well it was pretty much sleep time with a 7:50 am target to be in the lobby the next morning for Hanauma Bay. Thus ended the first incredible full day in Hawaii.
GOTO JULY 9
---