-all in all the swap meet was fun, although it was quite hot and there was a brief rainshower. We left the swap meet around 2 pm, and caught a bus back to the Ala Moana Center. After a 20 minute wait at Ala Moana, took another bus back to the Waikiki area, and got back there at about 3:30 pm.
-Brian and I both took showers and went over to the Waikiki Gateway for luau attempt #2. Andrew successfully rescheduled us for saturday. We got the same crazy escort, Jaysin, but weren't subjected to much of the same joking and hyping as friday. Apparently there were some logistical things that he had to take care of. So the ride there wasn't as enjoyable, but then again the luau actually happened this time! So what was it? a big ass party pretty much, complete with food, alcohol and show. Pretty fun on most accounts, in particular the show was pretty good. We got a bunch of dancing and performances from around the Pacific including Hawaiian, Tahitian, and Maori. My favorite was the guy with the double sided torch. Initially only one side was lit.. and he used his mouth to transfer fire from one end to the other. Crazy.....
-All the food hyping i think led to the food being somewhat disappointing. I think ppl were generally happy and satisfied because of the alcohol. Except for many Brian, who downed 6 shots of tequila and then complained of double vision. Hahaha oh well. The following seven pictures only partially capture the fun!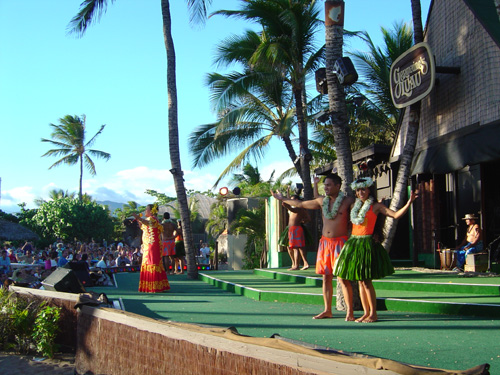 -Aloha to Germaine's Luau, the initial greeting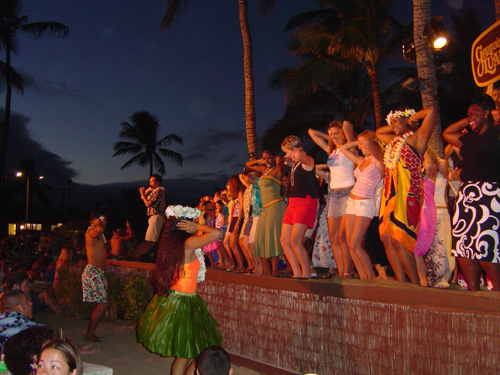 -the audience was given ample opportunity to interact and participate
-Pete, Kathy, Menzies and Jen enjoy the food and drinks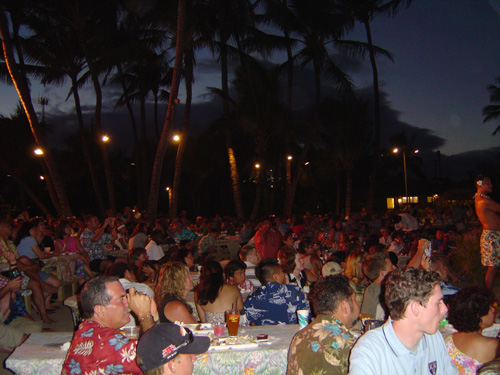 -i think there were around 300 people there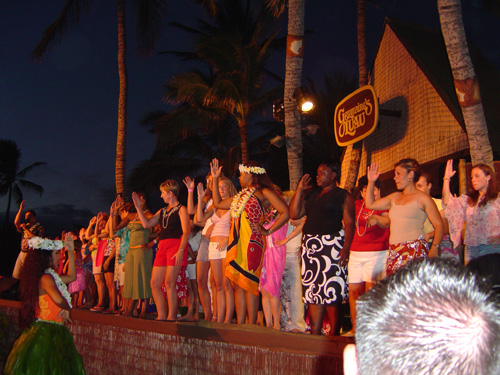 -more audience participation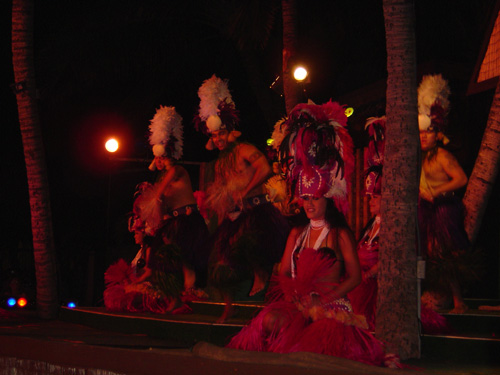 -Tahitian styled performace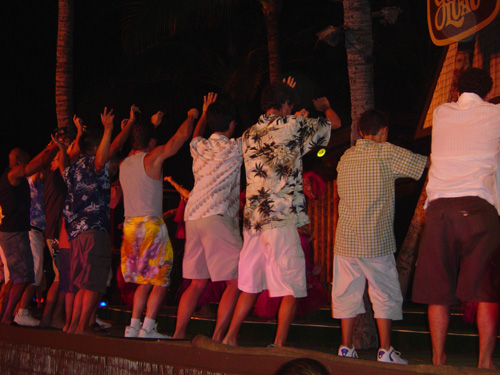 -Menzies and Andrew (in the center of the shot) show off their stuff
-the pictures don't really do the amount of fun justice. A luau is definitely one of those things you have to do when in Hawaii. Germaine's Luau was pretty good, although i'm curious to compare what the other commerical ones are like as well. Anyway it was all over at 10 pm, and we had a much funner bus ride back to Waikiki, complete with Jaysin's (corny) jokes. Anyway, that was the last time the group of 8 would be hanging out together, as we all booked different things for sunday and monday. But overall, a very fun experience that was one the big highlights of the trip.
GOTO JULY 11